Wow, how long is it going to take me to finish writing about this holiday?
Just FYI I went to Salzburg at the end of July/start of August. Over a month now!
Which..I think is not too bad considering I haven't completed posting about my Dubai and Turkey trips, from March and May respectively.
I've really tried to reduce the number of photos this time because I figured people (including myself) must be pretty sick of looking at my holiday snaps by now. Haha.
Sound of Music Tour & Salzburg City
Let me just say now that I LOVE OMG LOVE the Sound of Music, it's like the best film ever (besides 'A Little Princess'), being able to go on this tour made me feel so lucky, and 34 Euros poorer.
The price is a bit high, but it's one of those things you'll do anyway, just like the London Eye – £15.50 a person to go around ONCE when clearly you would need at least 1000 revolutions before you can hope to see the sights in good weather. I suppose you could say that a good-weather day in London is worth more or less £15500 then. Possibly more. HAHA OK ENOUGH ABOUT THAT.
REMEMBER THIS??
That's the lake and the back of the building that they used to film famous scenes from the movie such as when Maria and the children fell off the boat! And when that awful Baroness tried to play ball with the kids when she should've been the ball herself!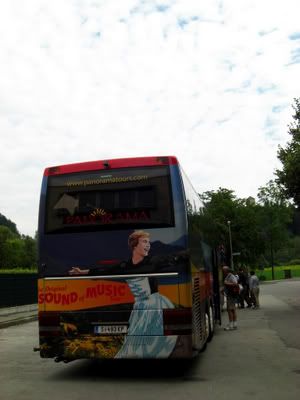 The Sound of Music Tour Bus!
YES It's the gazebo from Maria & Georg's first kiss/'I am 16 going on 17′, moved into a park now because the people from the building it used to be outside of complained of the noise produced by tourists swamping around it taking pictures and pretending to be Liesl.
Unfortunately the gazebo is now locked (apparently because an old lady once tried to leap around the benches and fell, breaking her hip instead) so I had to be Liesl elsewhere.
I *think* this was Wolfgangsee
That tree-lined road where the children could be seen hanging from it in their playclothes/old curtains!!
Of course, the trees are much bigger and taller now
None other than the church in which Maria and the Captain got married in.
The interior of the church was recreated as a studio set so it may be bigger and better and all that (that's why it looks huge in the movie).
BEEP BEEEEP
We had a quick lunch near this little town (where the church was located, and there the tree-lined road was) by a big, BEAUTIFUL lake full of ducks and birds under a bright, bright sun. I sat by the bank and got to dip my legs into the water! SIGH!
//
The following pictures were taken at Mirabell Gardens: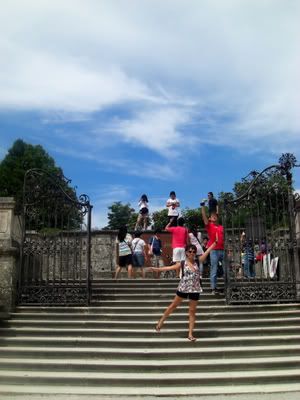 The famous do-re-mi steps!
The fountain where the children go running around the sides of 🙂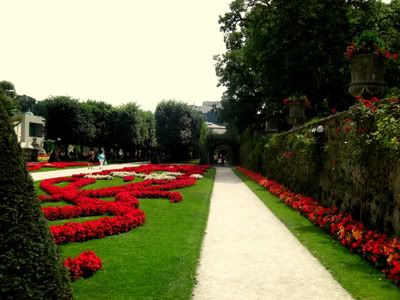 The tunnel where they come singing and skipping out of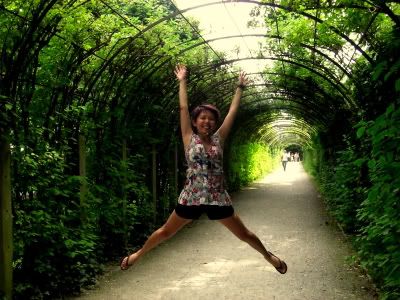 Am I lame?
We later went and visited Mozart's house
*BOOSH!*
I just thought this old lady looked really nice in her dress!!
//